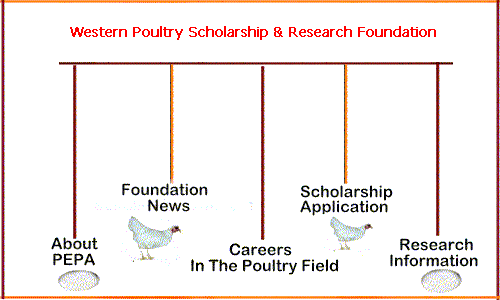 The Western Poultry Scholarship and Research Foundation has been helping nurture careers and research in the poultry industry since 1965. This site provides indepth information about our scholarship program for high school seniors and college students, as well as news about the Foundation's support of research efforts.

Questions?
Call 916/441-0801


Contribution Form
SCHOLARSHIPS FROM THE WESTERN POULTRY SCHOLARSHIP & RESEARCH FOUNDATION

WPSRF Application Instructions - (important)
Download an application for a summer internship
Download an application for an award of merit
New Member Application (PDF)

New for 2022/2023 - Submit your scholarship application online!

SCHOLARSHIP & RESEARCH FOUNDATION
Last year the Western Poultry Scholarship and Research Foundation granted 9 scholarships to qualified students. Since 1965 PEPA has assisted outstanding college students in achieving their scholastic goals!!
YOU COULD QUALIFY
Awards are made available for students currently enrolled in a college or university. High school graduating seniors qualify for scholarships upon entering their freshman year. The scholarship year begins with the fall semester/quarter of the respective year and runs through the spring term of the following year. If a student graduates mid-term they are eligible for 1/2 of the total scholarship award.
CRITERIA
Awards are made on the basis of your interest -- current and future -- in the poultry industry, scholastic achievement and financial need.
ELIGIBILITY
High school graduating seniors, undergraduate and graduate students are eligible. Funds will be made available to full-time students enrolling in colleges or universities offering poultry curriculum in the eleven western states and the western provinces of Canada.
DEADLINE
Applications must be received in the PEPA office no later than November 10, 2022. Scholarship recipients as well as all other applicants will receive notification by mail following the announcement of the awards.
APPLICATIONS
Download Application above or obtain one from your Vocational Agriculture Teacher, Department Head in Poultry and Animal Science, Food Technology, Veterinary Medicine, or your Office of Financial Aid. You may also write to the PACIFIC EGG & POULTRY ASSOCIATION, 1521 I STREET, SACRAMENTO, CA 95814, or call (916) 441-0801.
SEND IN YOUR APPLICATION TODAY!!!